This store requires javascript to be enabled for some features to work correctly.
Widely respected by divers the world over, the Tropic rubber diving strap bears a number of distinctive hallmarks and characteristics that have made it a true design classic, with a distinctive cross-hatched upper texture and distinctive diamond perforations, widened on the underside for maximum air-flow.

First popularised in the 1960s as an inexpensive, lightweight alternative to the steel bracelets provided with Tudor and Rolex watches; despite originally being intended as a somewhat disposable replacement strap, nowadays Tropic straps are renowned for their durability, with many early examples still being in use today.


Please note: Any watches pictured are for illustration purposes only and are not included.
Composition: Textured Rubber
Water resistance: Up to 300m
Part №: TRO-20-10


WHAT'S INCLUDED
×1 Tropic Rubber watch strap
×1 Steel Buckle
×2 Loops/Keepers
×2 Fitted Spring Bars
Watch End

(A)

Buckle End

(B)

Thickness
(C)
Thickness
(D)

Length

(E/F)

20mm
16mm
5.5mm
5.5mm
125mm/85mm
Min Combined Length

(G)

Max Combined Length

(H)

≈ 140mm
≈ 190mm

Customer Reviews
Write a Review
Ask a Question
Absolutely beautiful modernized version of this classic high end rubber strap for divers.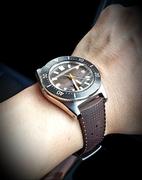 Fantastically supple, vanilla scented rubber strap. Highly recommended for comfortable summer wear, or just to give a retro look!