This store requires javascript to be enabled for some features to work correctly.
Crafted from genuine African ostrich leather, the Massai Ostrich has a look all of its own, with a distinctive grain featuring natural dark 'rosettes'. The strap's surface has a velvety texture, with a supple and moderately padded construction. A great, distinctive accessory for most types of watches.


Please note: Any watches pictured are for illustration purposes only and are not included.
Straps may vary slightly from those pictured.
Upper Layer: Genuine African Ostrich Leather
Lower Layer: Silkglove leather lining
Water resistance: Splash Resistant
Warranty: 12 months
Part №: 042 62 1 91 (M) | 042 62 0 91 (L)


WHAT'S INCLUDED
×1 Hirsch Massai Ostrich watch strap
×1 Hirsch H-Tradition Buckle
×2 Loops/Keepers
×2 Quick-Release Spring Bars
Watch End

(A)

Buckle End

(B)

Thickness

(C)

Thickness

(D)

Length

(E/F)

14mm
12mm
3.2mm
2.3mm
M -110mm/70mm
16mm
14mm
3.2mm
2.3mm
M -110mm/70mm
17mm
14mm
3.4mm
2.3mm
M -110mm/70mm
18mm
16mm
3.6mm
2.3mm
L -120mm/80mm
19mm
14mm
3.8mm
2.4mm
L -120mm/80mm
19mm
16mm
3.8mm
2.4mm
L -120mm/80mm
20mm
16mm
4.0mm
2.5mm
L -120mm/80mm
20mm
18mm
4.0mm
2.5mm
L -120mm/80mm
21mm
18mm
4.2mm
2.6mm
L -120mm/80mm
22mm
18mm
4.4mm
2.7mm
L -120mm/80mm
Min Combined Length

(G)

Max Combined Length

(H)

M ≈ 160mm

L ≈ 180mm

M ≈ 120mm

L ≈ 130mm
Using the menu above, you can optionally add a Hirsch Sport deployment clasp to your purchase (for compatible straps) in a either silver or gold tone. Additional costs as indicated.
A deployment clasp adds quick-release functionality to your watch strap for added convenience.
Customer Reviews
Received in time for my holidays, well worth the wait, thankyou!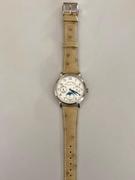 Love this strap