This store requires javascript to be enabled for some features to work correctly.
These NATO watch straps are a brilliant addition to any watch. Comfortable and breathable, they are a great alternative to the metal bracelet or leather strap on your watch.
With a NATO strap fitted, your watch is more secure than any other type of strap. The added security comes from the strap being one piece but secured to the watch in two separate points. Meaning, should one spring bar fail then the second spring bar will keep the watch attached to the strap.

With the extra length that these straps offer it means you can wear your watch over a jacket. This may be handy when partaking in activities such as sailing, skiing, hunting, golfing, fishing etc.

Please note: Any watches pictured are for illustration purposes only and are not included.
Straps may vary slightly from those pictured.
Material: Nylon
Water resistance: Splashproof
Part №: 001-40-00-02-N


265mm total length (excluding buckle)
245mm total usable length (excluding buckle)
160mm shortest usable length (excluding buckle)
80mm of strap between the two keepers where you put your watch.


WHAT'S INCLUDED
×1 Nylon NATO strap
×1 Black PVD Steel Buckle
×2 Black PVD Steel Keepers

Watch End
(A)
Buckle End
(B)

Thickness

(C)

Length

(D)

18mm
18mm
1.2mm
265mm
20mm
20mm
1.2mm
265mm
22mm
22mm
1.2mm
265mm
24mm
24mm
1.2mm
265mm
Customer Reviews
Write a Review
Ask a Question
07/24/2021
Jack C.

United Kingdom
Superb Quality Nato Straps
Unbeatable on price vs quality! I love my watch all over again. 10/10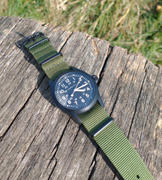 07/27/2021
WatchObsession
Another great combo, thanks a lot for your review.
07/24/2021
Jack C.

United Kingdom
Superb Quality Nato Straps
I couldn't be happier with my two Nato straps; one in Khaki and one in olive drab. I needed them with a black PVD buckle to match the case and these were perfect!